Reinforcing the body's own protection
The scientific concept is to reinforce the body's own defense mechanism against diseases caused by pathologic oxidative stress.
Alpha-1-microglobulin (A1M) is an endogenous protein that is designed to continuously remove toxic substances arising from oxidative stress, including ROS (Reactive Oxygen Species). These substances would otherwise cause severe damage to cells and tissue of our bodies. Our drug candidate ROSgard is a recombinant and modified version of the A1M protein that can be used in therapeutic settings. ROSgard is naturally designed to "target" the kidneys, and hence to be in place when the kidneys are exposed to abundant oxidative stress. Treatment with ROSgard has the potential to save lives and prevent both acute and chronic kidney injuries, where the reduced kidney function could otherwise lead to severe consequences, such as need for dialysis treatment.

The scientific concept is based upon decades of basic research around the molecular physiology of A1M.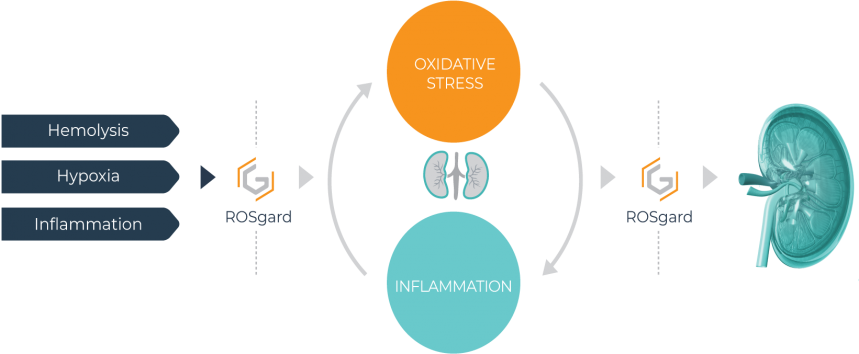 Model of ROSgard protection against AKI in cardiac surgery. ROSgard binds to and neutralizes both ROS and heme in the blood stream before they can damage the kidneys. Subsequently, ROSgard targets the kidneys and prevents AKI by protecting, cleaning and repairing tissues and cells already exposed to oxidative stress. In summary, by using a wide range of mechanisms ROSgard provide a robust protection of the kidneys.